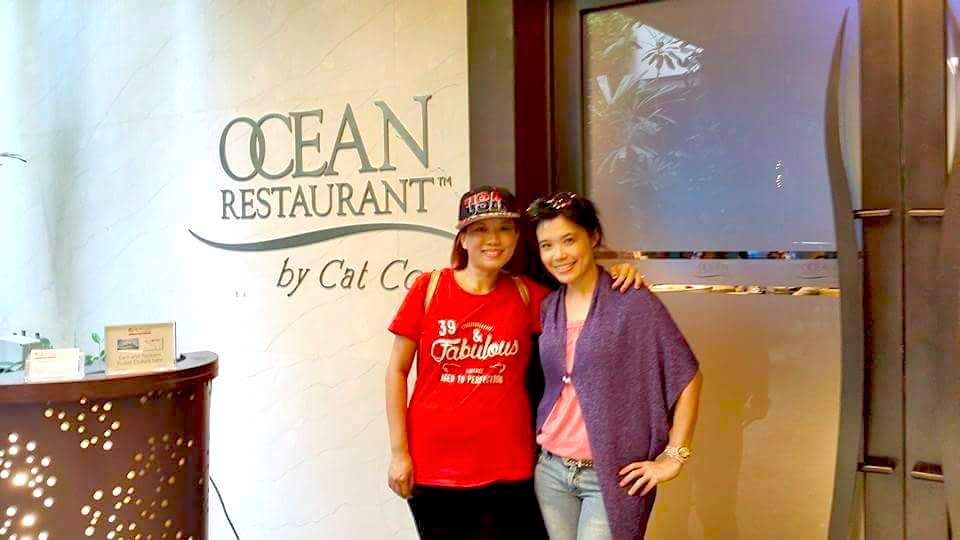 An Expensive but Unfulfilling Dinner in a Beautiful Ambience
I had a birthday celebration with my friend at Ocean Restaurant by Cat Cora in Resort World Sentosa Singapore (RWS). It was a beautiful, romantic and classy fine dining restaurant with a splendorous and dazzling aquarium. Indulging in the pleasure of the fishes swimming close to the glass tank while dining was a gastronomic adventure. The food was fabulous but with a miserable small serving. The service level was excellent, particularly a male staff named Colin. Indeed a Paradiso!
We went on a Saturday afternoon. It was packed and noisy inside the restaurant. We had a 3-Course Set Lunch that cost S$55.00/pax which you can pick and choose from the Starter, Main Course and the Dessert menu. I tried my friend's steak, which was rather average in taste. But most importantly, it was her birthday and she liked the food. I ordered salmon, and it was delectable.
The food was generally delicious, but not enough to fill up the stomach that was perhaps the reason why it was called fine dining. When the portion was meagre, it was tough to say that the food was not tasty. Before you have enough time to decide whether the food tasted good, it was already in the stomach. Never to go there famished expecting the portion served to perk you up. You pay a dear price to dine in a cosy and memorable ambience and not merely for the food.
The aquarium in the restaurant was part of the Underwater World in Sentosa. When you walked out of the other door, there were many people taking photographs of the stunning environment. You have to pay to go inside the Underwater World, but if you dine in this restaurant, you get to enjoy part of the luxury as well. Quite a great deal, I would say.
Instead of showing you photos of the environment and the food, I made a one-minute video with the photographs. The Youtube video will show you the name of the cuisine that we had.
Update
As we went to Ocean Restaurant by Cat Cora quite some times ago, the current menu seems to have changed. It is pricier now at S$72.00 for a 3-Course Set Lunch. Furthermore, I could not see Cat Cora name anymore on the website. Likely, she is no longer there to curate the Ocean Restaurant menu.
About Author
Hi, I'm MissSJ, your virtual travel guide here. Travelling, Google Maps and YOU are my interests. I enjoy amplifying my stories and tips with online maps to calculate the distance figuratively and navigate the direction so several points of interests are conglomerated in the same area as possible. With a virtual assistant, take my ride and join me!
Singapore Weather Forecast
Singapore
28°
Showers in the Vicinity
07:0519:16 +08
Feels like: 33°C
Wind: 18km/h SW
Humidity: 79%
Pressure: 1008.13mbar
UV index: 0
28°C
28°C
29°C
29°C
29°C

31/27°C
32/27°C
32/27°C

Currency Converter
Recent Posts
Last Tweets
I hit 200 million views with 8,570 photos for my #localguide contribution today. Last year on 24 April, I hit the f… https://t.co/MsGOGWxNcQ
21/04/2020 14:08:20

@asbarnett206 Hi Anthony, I m not sure about mobile hotspot as I don't use them. Maybe you can consider getting a W… https://t.co/6y4Kgo815N
29/01/2020 21:16:58

#Cambodia is one of the Least Developed Countries (LDC) in the world. There is no public transport like trains or b… https://t.co/vuCIEfp1FD
19/01/2020 19:28:34